South Sudanese workshop on public dialogue concludes in Kampala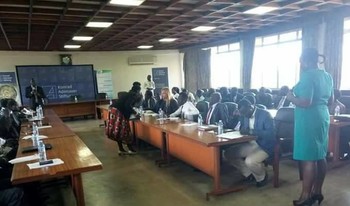 A one-day workshop on public dialogue was concluded on 2 March in the Ugandan capital, Kampala. The event was organized at the Makerere University by the International Youth for Africa (IYA) under the umbrella of Network of South Sudanese Civil Society Organizations in Uganda in partnership with Konrad-Adenauer Stiftung (KAS).
The workshop was organized under the theme, 'Understanding the High Level Revitalization Forum and IGAD mediation role on South Sudan peace''.
The discussion brought together nearly 400 South Sudanese including Ambassador to Uganda, SPLM-IO representative, civil society groups, religious leaders, women, youth, girls, Ugandan nationals and community leaders.
The participants called on the IGAD mediation to bring about a stable and lasting peace in South Sudan.
Ter Manyang Gatwech, Executive Director of International Youth for Africa (IYA), said the different views expressed during the workshop will be presented to IGAD mediators ahead of the next round of discussions between the warring parties that will take place this month in the Addis Ababa.
"The South Sudan government wants sustainable peace and no shortcut while the opposition wanted all the government leaders in Juba out, which means removing the entire regime in Juba," he said.
The East African regional bloc IGAD, which has been mediating the peace process, suspended already faltering peace negotiations after the expiry of a deadline for the second round of the talks on 16 February.