South Sudanese students in Harare occupy embassy over unpaid arrears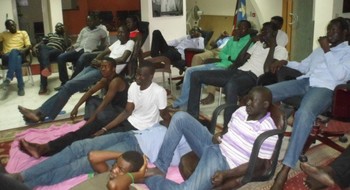 File photo: South Sudanese students occupy embassy in Cairo, protesting against unpaid stipends in 2013.
South Sudanese university students on government scholarships who occupied the country's embassy in Zimbabwe about six days ago are still living inside the embassy with few supplies of food and other essentials
Students participating in the sit-in at the embassy said they have suffered shortages of food. They are demanding the South Sudanese government to pay them tuition fees and living expenses.
Santino Wol Majok, one of the student leaders told Radio Tamazuj that the students expelled from universities "are now sleeping inside the embassy premise and their life is so bad."
"Students from two universities have been affected. National University of Science and Technology has 32 students and Harare Institute of Technology has 28 students, so we have been expelled from the two universities over non-payment of tuition fees," he said.
"We are in a bad situation due to lack of food. We are now sleeping on the floor in the embassy kitchen," he added.
The complaining student pointed out that the government of South Sudan "has failed so far to respond positively to their demands. He urged the ministry of higher education to come to Harare and sign an agreement with the government of Zimbabwe to solve their problem.
Makuei Maker, a students' representative, said the government of South Sudan failed to pay tuition fees in August last year. "On 21 December 2017, I was called by our Vice Chancellor and said that they have not received any response from the government of South Sudan, so they cannot help the students of South Sudan anymore due to economic hardships in Zimbabwe,"" he said.
"Now we are living inside the embassy because we have nowhere to go. We will be allowed to go back to the universities when our government pays the money," he said.
The minister of higher education Yiel Oral Lam could not immediately be reached for comment.
South Sudan has been experiencing serious economic challenges, which are mostly attributed to the ongoing civil war that has disrupted oil production.