South Sudanese refugees accuse government troops of killing civilians in Pajok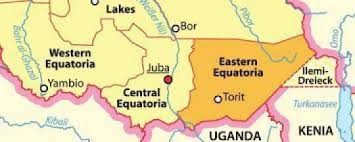 Hundreds of South Sudanese refugees who fled to Uganda after deadly clashes between government troops and opposition fighters in Pajok area in Imatong State recently have accused the government of targeting civilians and displacing a large number of families.
Evaline Akonga, a mother of three children, who fled to Ngoromo area which lies on the Ugandan border, told Radio Tamazuj that the SPLA committed crimes against the people of Pajok area, forcing many to flee their homes. She further said while fleeing she saw many dead people and also saw many houses burnt to ashes.
Akonga pointed out that women, children and the elderly are most affected, adding that: "many people were killed because they are accused of being rebel supporters, but they are innocent civilians with no link to the rebels."
James Uchalla, who is currently living in a transit point along the South Sudan-Uganda border, said government soldiers attacked the area on the first day and started killing indiscriminately.
On the second day, Uchalla said, women were raped and several houses were looted and then torched. "Why would government forces who are supposed to protect civilians turn against them?"He asked.
SPLA-IO deputy military spokesperson, Paul Lam Gabriel, also accused government forces of committing atrocities against the people of Pajok. He further said many people are still missing including some local chiefs.
For its part, the government confirmed that fighting took place in Pajok but denied killing any civilians.
Santo Domic, the deputy military spokesperson in Juba, claimed the SPLA forces were pursuing rebel forces that had attacked the area and were looting properties.
Last week, the United Nations Mission in South Sudan (UNMISS) said its peacekeepers were prevented "twice in as many days" from accessing Pajok area by government forces.
Rights groups have accused South Sudan army several times of committing atrocities against civilians but the government has continuously denied the allegations.