South Sudanese politician defends role of Dinka 'Council of Elders'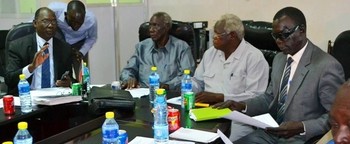 A leading member of the Jieng (Dinka) Council of Elders has defended the role of the tribal advisory group, claiming the body has been working to unite the people of South Sudan.
The Dinka Council of Elders is comprised of members of government, MPs and political supporters of President Salva Kiir. It is not a body of Dinka traditional leaders.
"The Jieng Council of Elders has always been coming up with initiatives to reconcile the people of South Sudan. So, if we are being accused of playing a negative role is not true," Joshua Dau, one of the elders and the co-chair of the Jieng Council said in an interview with Radio Tamazuj.
Dau said the tribal group of politicians met with the county's former army chief Gen. Paul Malong Awan recently in Nairobi in an effort to defuse mounting tensions in the country.
Dau, who is also a member of South Sudan's upper house of parliament, said their group held several meetings with elders of Equatoria and Nuer communities and discussed the importance of peace and reconciliation in South Sudan.
"We always involve ourselves in political issues because we are elders of the country and we don't want conflict. If the other communities don't want to play the role of elders, we cannot force them," he said.
"We know very well that the government has its own policies, but when there is something wrong, we say this is wrong. We advised the president recently not to surround Malong's house with tanks, so we feel that such issues are part of our responsibility as elders," he added.