South Sudanese observer predicts peace deal is imminent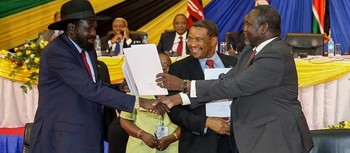 A South Sudanese observer predicts peace talks that will take place in Ethiopia next month will see an agreement between South Sudan's warring parties, citing more pressure from the international community.
James Okuk, a political science lecturer at the University of Juba, told Radio Tamazuj on Monday that the United Nations, African Union, and the East African Intergovernmental Agency on Development have started to speak with one voice to end the ongoing civil war in South Sudan.
Okuk said he believes there will be a signed peace agreement between the warring parties through the revitalization process of the 2015 peace agreement. "South Sudan is not an island. Peace will come because pressure is being put on the warring parties," he said.
"The recent joint statement by UN, AU and IGAD on South Sudan indicates there will be more pressure on the warring parties in South Sudan. It is the first time for the three bodies to come up with one position," he added.
The United Nations, African Union, and the East African regional bloc IGAD said recently parties that violated the ceasefire agreement must be held accountable and urged the unity government, and all South Sudanese parties to focus on the higher goal of the national interest, and securing the future of South Sudan.
U.S. Ambassador Nikki Haley also said Washington is giving up on South Sudan President Salva Kiir after investing over $11 billion since the country's independence in 2011, calling him "an unfit partner" in the pursuit of peace and urging an arms embargo on the conflict-wracked nation.