NAIROBI/JUBA -
30 Nov 2017
South Sudanese exempted from entry visa to Kenya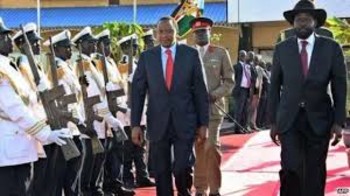 Kenya's President Uhuru Kenyatta announced Tuesday that citizens of countries within the East African Community (EAC), including South Sudan will be treated like Kenyans when they visit the country.
He made the announcement shortly after he took the oath of office for his second term in office Tuesday.
The Keynan leader pointed out that the citizens within the East African Community (EAC) will only need identity cards to live, work and marry in Kenya.
Kim Gai Ruot, a South Sudanese MP elected to serve at the East African parliament, confirmed to Radio Tamazuj on Wednesday that the government of Kenya has announced a free visa for all the East African Community citizens including South Sudan.
Gai said from now onwards any South Sudanese national entering Kenya will only require his/her National Identity card if he doesn't possess a passport.
Gai further said this is one of the advantages of joining the regional bloc. He also noted that South Sudanese will be exempted from paying customs across the borders.
The lawmaker added that South Sudanese can also travel to the other members of the EAC; Tanzania, Rwanda, Burundi and Uganda without paying visa fees.
South Sudan is the sixth member in EAC.