South Sudanese citizens hope for peace ahead of Pope's visit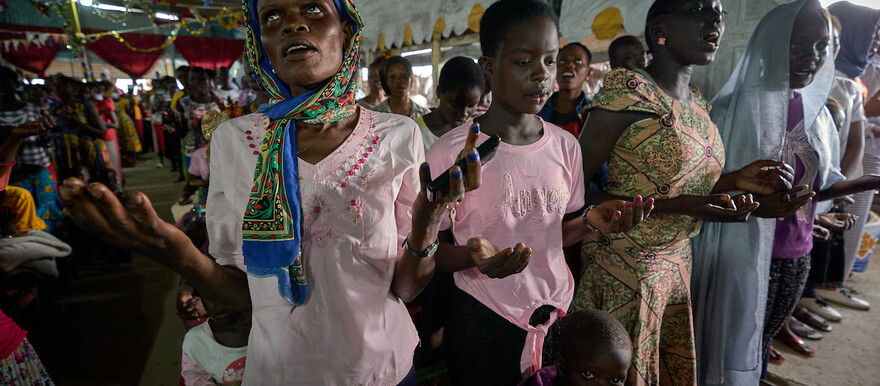 Pope Francis embarks on his fifth visit to Africa today, flying to the DRC and then South Sudan to plead for peace in the two conflict-ridden nations.
The six-day ecumenical visit is undertaken by the Pope, the Archbishop of Canterbury, Justin Welby, and the Moderator of the Church of Scotland, Iain Greenshields. 
As South Sudanese wait for the church leaders to land in Juba on Friday, they told Radio Tamazuj that all they hope for is that the visit brings peace, healing, and reconciliation to the nation.
Thousands of South Sudanese have died and many more displaced by civil wars two years after the country became independent in 2011. Until now, the country is plagued with the effects of wars, rampant communal violence, insecurity, economic collapse, corruption, and human rights abuses.
In April 2019, Pope Francis, in a dramatic gesture after an unprecedented retreat at the Vatican, knelt to kiss the feet of South Sudan's previously warring leaders as he urged them not to return to a civil war.
Radio Tamazuj sought the views of citizens across the country.
"I expect Pope to come and pray for the people of South Sudan and in return, people should accept the prayers for peace and unity so that communal conflicts would end. President Kiir and First Vice President Machar have gone to Rome and he (Pope Francis) welcomed and kissed their feet and hands so that they implement peace," Chuor Aguek Chuor, a citizen of Kuajok town in Warrap State.
He adds, "We expect to have spiritual acceptance in our hearts and his visit will bring everlasting peace because of his big contribution to peace in South Sudan be it spiritually, politically, socially, and economically. The Pope supports peace in the country."
Ayak Santino Ayok hopes that after Pope's visit, South Sudanese will unite and live peacefully. 
"I expect his prayers will take away evil from the hearts of the people of South Sudan because there are many problems in the community as brother kills brother and communities fight each other," she lamented. "We expect him to hold prayers so that people change their hearts and when he returns, South Sudan would not be the same again. It should not be like prayers he held for the president and his first deputy which ended without changes so we expect his return will unite us as brothers and sisters." 
"I think South Sudan is a blessed land and Pope's coming is the blessing which will solve political differences, end hunger and the violence among the communities of South Sudan," an optimistic Adrea Santino Kuot said.
"Pope will bless the land of South Sudan and unite our broken hearts as people of South Sudan.
Angong Athian says South Sudanese are yearning for peace, love, and unity and wishes Pope's visit will manifest these. 
"I expect 2023 to be the year of good things so that everyone gets his/her needs and also be the year of peace, love, and unity so that God will unite our hearts as South Sudanese to do one thing because our problems is a misunderstanding," she said.
"I expect the Pope to get a huge reception and people should benefit from his words and put these words into practice. Pope's words and his prayers will not do anything if there is no hope and belief," Athian added. 
Thuou Kuac, a resident of Aweil town in Northern Bahr el Ghazal State, said he desires the visit unites the nation including hold-out opposition groups.
"I hope his visit to South Sudan will be a blessing and I hope there will be peace in the country through him because his arrival brings many people together. I also hope that the holdout armed groups come back for peace so that there will be no gunfire in any corner of the nation," Kuac wished.
Atak Deng said: "All South Sudanese hope for everything good on his visit and we hope he comes with something good. 
The visit was originally planned for July 2022 but postponed due to the 86-year-old pontiff's knee pain that has forced him in recent months to use a wheelchair.