S Sudanese activist in Nairobi under security fears from Juba government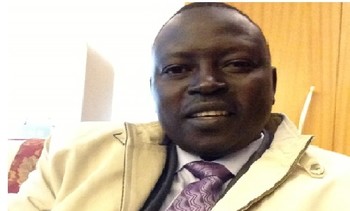 File photo: Wol Deng Atak
Wol Deng Atak, a former South Sudanese politician turned good governance activist, has expressed fear that his home government wants him deported back to Juba or kidnaped from Kenya.
Atak told Radio Tamazuj today that he received reports from Juba on Wednesday night that security agents have been dispatched to Nairobi to either assassinate or kidnap him in order to sabotage peace efforts led by President Salva Kiir to reconcile with former political detainees.
"South Sudan government is divided into groups. There is a group that wants peace and also there is a group that wants the ongoing war to continue," he said.
"Recently before the Kenyan elections, I received a telephone call from someone telling me that he will look for me and will shoot me in the head," he explained.
He revealed that the same security agents sent from Juba are also looking for other South Sudanese opposition officials who are currently living in Kenya.
Atak, who is a former legislator and chief editor of the Nation Mirror newspaper, said he is being hunted for his vocality on the ongoing war and governance matters in South Sudan. However, Atak denied being part of the armed opposition group in South Sudan.
"I am in the peaceful opposition or non-armed opposition. I have not taken up any gun. We only share ideas with the SPLM-G10 group, we share peaceful means of resolving the ongoing conflict in South Sudan," he said.
The former deputy information commissioner said he was shocked by the steps taken by South Sudan leaders to crackdown on whoever expresses his opinion on governance matters.
"It is really unfortunate and it is against the principles of South Sudan. We need to give the people the freedom to express themselves and to correct things," he said.
In January this year, Dong Samuel, a prominent South Sudanese lawyer and Aggrey Idri, a member of the opposition allied to rebel leader Riek Machar went missing in Nairobi.
Riek Machar's former spokesman James Gatdet was also deported and handed over to South Sudan government by Kenyan authorities in November 2016.