South Sudan young leaders forum concludes in Kigali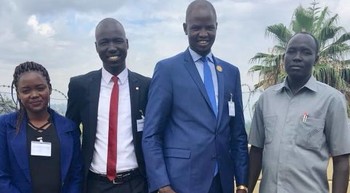 The first convention of South Sudan Young Leaders Forum (SSYLF) concluded Wednesday in Kigali, Rwanda with a declaration calling for enhanced youth dialogue for the sake of peace in the country.
The forum held in Kigali from 11 to 15 November brought together 73 delegates representing the SSYLF global membership from South Sudan, neighbouring countries and the diaspora.
The delegates, according to a statement extended to Radio Tamazuj, discussed the current political, economic, social, security, and humanitarian crisis in the country.
The young leaders said they also discussed and passed the basic documents of the SSYLF, which includes the SSYLF Charter, the Code of Conduct, and the SSYLF Agenda for the nation.
The statement further said the young leaders elected 15 members of the Board and endorsed the idea of youth dialogue, while calling upon the government, SSYLF members and South Sudanese youth to embark on this process.
The forum is sponsored by the Berghof Foundation and the Norwegian Peoples' Aid (NPA).