South Sudan women organizations agree to work together for peace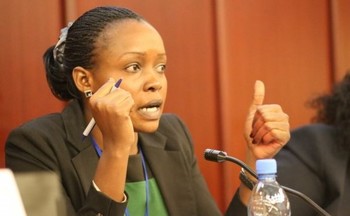 File photo: Rita Lopidia from EVE Organization for Women Development
Over 40 South Sudanese women organizations and other NGOs working on women empowerment and peace said they had signed a Memorandum of Understanding (MoU) to collaborate and work together to bring about a lasting peace in the country.
In a statement extended to Radio Tamazuj on Friday, the group said that the singing of the cooperation agreement was an outcome of a regional meeting convened in neighbouring Uganda in September this year.
According to the statement, 43 South Sudanese women's organizations and other organizations unanimously agreed to sign the Memorandum of Understanding (MoU) on 21st October 2017, to collaborate and work together across South Sudan and within the region to bring peace and security in the country.
The organizations, the statement said, will be convening in Juba, while those based in Kenya and Uganda will be convening in Nairobi and Kampala respectively.
"In the interim period, three institutions namely, South Sudan Women General Association (SSWGA), EVE Organization for Women Development and the National Transformative Leadership Institute (NTLI) at the University of Juba will oversee the coordination and implementation of the various activities," partly reads the statement.
The group of organizations expressed deep concern about the deteriorating situation in the country, while expressing commitment to work for a peaceful and stable country.
The organizations pointed out that the revitalization process and other alternatives contribute to the realization of peace in South Sudan.
"We will in the coming months engage in a series of activities that will include advocacy meetings, media engagement among others with a mission of sustainable peace," the group said.
They called on other women organizations in South Sudan and the diaspora to join the initiative, while urging development partners to support the initiative.