South Sudan: UN reinforcing Bor base against attack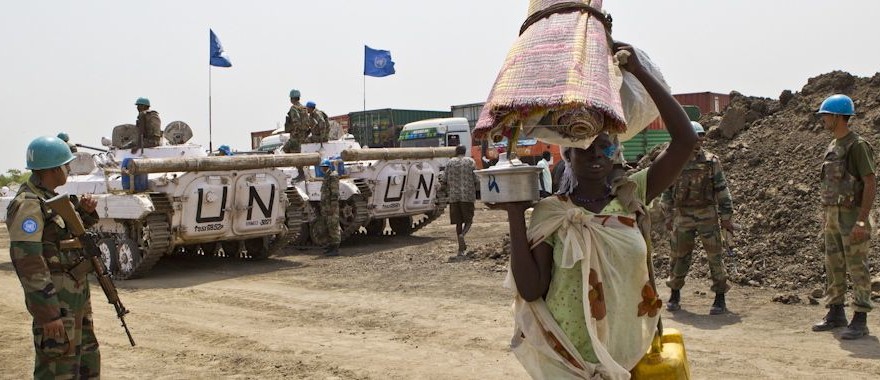 UNMISS, the peacekeeping mission in South Sudan, is withdrawing all 'non-critical' staff while reinforcing several bases including Bor, Pariang and Bentiu.
The mission's base in the Jonglei state capital Bor about 200 kilometers north of Juba became a haven for 15,000 civilians after SPLA commander Peter Gadet defected and took over outlying barracks and part of the town.
SPLA has sent additional troops to recapture Bor, the foreign minister Benjamin Marial confirmed on Sunday. Witnesses also corroborate troop movements in several areas of the country, for instance in Northern Bahr al Ghazal where the 3rd Division was ordered to send reinforcements southward toward Juba.
'All flights' from the state capital Aweil on Thursday including commercial airlines such as South Supreme were filled by officers rushing back to Juba, according to a witness at the airstrip there, while other elements have moved by road.
The UN fears that in coming battles the civilians in the UN bases might be caught in the crossfire between two groups, or that the base might be directly targeted.
"It's been difficult but we've been reinforcing the base," said UN Deputy Representative in South Sudan Toby Lanzer, immediately after a trip to Bor. "We have been literally digging and reinforcing the position for the last 36 hours. We will not allow a repeat of what has already struck us in Akobo," he said in a UN-produced video.
He was referring to an attack on Thursday in Akobo, also in Jonglei State, by ethnic Nuer youths who overran an UN base and killed at least 20 civilians who had sought protection inside.
Potential threats to bases in Unity State have also come to the attention of the United Nations, including at their Bentiu compound were another 5,000 civilians are taking refuge since clashes that occurred during the defection of large parts of the 4th Division in the town.
Former SSDF forces loyal to President Kiir in Mayom have threatened to retake Bentiu. In a statement made by Gordon Buay, who claims to be their spokesman, they warn that they will use heavy artillery to dislodge Maj-Gen James Koang and his forces from the town, and they advise civilians and UN staff to leave.
North of Bentiu in Pariang County, clashes between local armed youths and defectors were reported as well as fighting within SPLA on Friday. The UN has a contingent of Mongolian peacekeepers in the county, which it intends to reinforce, while withdrawing humanitarian workers.
The exact size of the UN peacekeeping force in Bor is not clear. A contingent of military engineers from the Republic of Korea has a reported strength of up to 300 men.
With multiple bases needing reinforcements, the UN plans to send resources from other peacekeeping missions in the region to South Sudan.
Ban Ki-Moon, secretary-general of the UN, was quoted by Reuters as saying, "We are now actively trying to transfer our assets from other peacekeeping missions like MONUSCO (in the Democratic Republic of Congo) ... and some other areas."
"And we are also seeking support from other key countries who can provide the necessary assets," he added.
File photo: Peacekeepers in Pibor, Jonglei State (UNMISS)
To contact Radio Tamazuj with comments, news tips or information, write to radiotamazuj@gmail.com.