South Sudan: UN peacekeeping review urges support for political solutions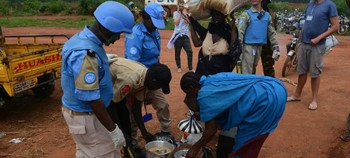 The UN Mission in South Sudan (UNMISS) provides protection to civilians fleeing recent violence in Wau (August 2016). Credit: UNMISS)
A latest review of the United Nations peacekeeping operation in war-torn South Sudan has found that reaching a political solution to the ongoing conflict is the most effective way to protect civilians, a senior UN official said Tuesday.
"A sustainable political resolution of the conflict is also the only avenue to chalk out a viable exit strategy" for the UN Mission in South Sudan (UNMISS), Assistant Secretary-General for Peacekeeping Operations Bintou Keita told the UN Security Council, urging a renewed focus on supporting the political process.
"This requirement unfortunately remains valid," she said, noting that tens of thousands of civilians are estimated to have been killed since the conflict began while over 4 million have been displaced, half of whom are now refugees in neighboring countries.
As documented once again by the Human Rights Council Commission of Inquiry which published its report last Friday, human rights violations and abuses, including horrific incidents of sexual violence, have reached alarming levels, and impunity for these crimes remains the norm, Keita said. Moreover, over 200,000 internally displaced people continue to be protected on UNMISS bases with the assistance of humanitarian partners.
The review found that largely over 50 percent of the mission's uniformed personnel are currently devoted to protecting these sites.
These sites only cover a fraction of the South Sudanese civilians in need of protection.
"There are no easy answers to this dilemma. There will never be enough troops to protect both the 'protection of civilians' sites and extend UNMISS's protection footprint to other areas of large displacements, in a country as large as South Sudan," she said.
The current environment of Juba, therefore, may call for some adjustment of the RPF mandate, Keita said.
Following the review, the Under Secretary-General for Peacekeeping Operation has ordered a military and police capability study to explore how less troops can be dedicated to the 'Protection of Civilians' sites, and more are projected throughout the country to protect other civilians under imminent threat of violence.