South Sudan, UK discuss peace, transitional justice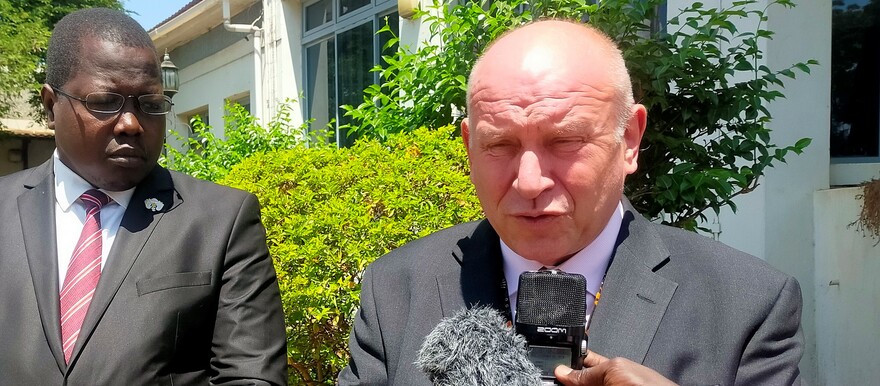 UK Ambassador to South Sudan, Guy Warrington, speaking to reporters after a meeting with Justice Minister Reuben Madol Arol in Juba on Wednesday, May 31, 2023. (Radio Tamazuj)
South Sudan's Minister of Justice and the UK Ambassador to South Sudan on Wednesday discussed the implementation of the peace agreement, transitional justice and electoral processes.
Addressing journalists following a meeting between UK Ambassador to South Sudan, Guy Warrington, and Minister of Justice Ruben Madol Arol and senior officials at the ministry, Joseph Malek Arop, Deputy Minister of Justice, said the minister assured the ambassador of South Sudan's readiness to implement all provisions of the agreement based on the timeframe stipulated in the agreement.
"The meeting focused on transitional justice and the way forward in implementing the peace agreement. The minister of justice briefed the UK ambassador on issues pertaining to the implementation of the peace agreement, especially the transitional justice mechanism," Malek said.
The deputy minister said the justice minister also briefed the ambassador on issues related to justice administration in the country, especially human rights in South Sudan and also legislation that governs elections and other processes related to the implementation of the peace agreement.
He stressed that the Ministry of Justice is ready to conduct conferences related to transitional justice in the peace agreement besides the just concluded one.
 "Although there are a lot of issues related to human rights violations and extrajudicial killings, the Ministry of Justice is half capacity to address these issues," he said.
For his part, Ambassador Guy Warrington said they discussed the recent transitional justice conference and the positives that it might have in delivering justice for the people in South Sudan and also issues related to the passing of the elections bill and progress in constitutional reforms.
The UK diplomat reiterated their comment support for justice sector reforms in South Sudan.
 Chapter 5 of the 2018 peace agreement in South Sudan provides for the implementation of transitional justice, in particular truth-seeking, reconciliation, healing, reparations and accountability using a range of interlinked mechanisms.
The agreement also provides for the establishment of a hybrid court to hold perpetrators to account by bringing South Sudanese and other African experts together to try the most serious crimes.
But South Sudan's political leaders have repeatedly sought to block the establishment of this court.
Also, the commissioner for truth and healing has not yet been established.