Government summons Kenyan charge d'affaires over crackdown on its citizens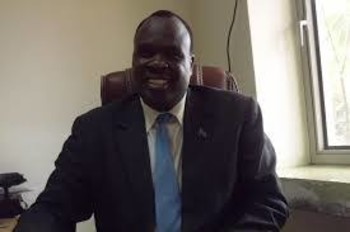 File photo: Mawien Makol
South Sudan government has summoned Kenya's charge d'affaires to protest over the Kenyan police's crackdown on South Sudanese living in Kenya.
Last week, the Kenyan government started the arrest and deportation of illegal immigrants in the country following the lapse of a two months grace period requiring them to acquire proper documentation.
Mawien Makol Ariik, the official spokesman of the Ministry of Foreign Affairs, told Radio Tamazuj that the ministry on Wednesday summoned Kenyan charge d'affaires Ali Mohamed, and expressed its concern about the on-going crackdown on South Sudanese in Kenya.
"We told him that South Sudanese need to be given especial consideration because they are part of the East African Community," he said.
The South Sudanese diplomat pointed out that the Kenyan charge d'affaires promised to convey Juba's concern on the issue to his government.
"The Kenyan diplomat promised that he will talk to the ministry of foreign affairs in Kenya so that South Sudanese are given special consideration," he said.