South Sudan seeks to boost ties with Turkey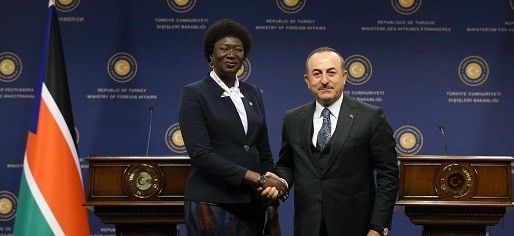 South Sudan and Turkey on Wednesday vowed to deepen cooperation in various fields and boost bilateral relations.
This came during a joint press conference held in Ankara by Turkey's Foreign Minister Mevlut Cavusoglu and visiting South Sudanese Foreign Minister Awut Deng.
Minister Awut stated that South Sudan wants to develop relations with Turkey in various fields. "South Sudan will renew its institutions during the transition and we believe from our hearts that we will be taking your experiences as models and benefit from them," she said.
Expressing her satisfaction with her visit to Turkey, Awut drew attention to Turkey's historic ties with South Sudan.
The South Sudanese minister noted that the relations between the two countries are not new and said: "I am here to deepen our relations and share our richness in South Sudan with you".
Awut expressed that they want to benefit from Turkey's technical experience in petroleum, mining, agriculture and fishery. Minister Awut invited Turkish business people to invest in South Sudan and underlined that government institutions in the capital Juba are ready to provide consultancy services.
For his part, Turkey's Foreign Minister Mevlut Cavusoglu said: "We do not approve the embargoes imposed on South Sudan which is trying to solve its problems under difficult conditions. On the contrary, we should support South Sudan".
He pointed out that Minister Awut's visit to Turkey is the first at foreign minister's level and he also said that he plans to visit South Sudan towards the end of this year.
The Turkish official expressed hopes that the visit will give a momentum to bilateral relations. "Our political relations are very good, but there are many opportunities to be explored in different areas," he said.
"After the stabilization of the country with the Transitional Government of National Unity, we think that this potential will be better explored. So far, our companies have completed very important projects. We will work together again for new investments and undertaking projects," he added.
Cavusoglu stated that Turkey will continue to provide scholarships to South Sudanese students. "This year 26 South Sudanese students are studying in our country with Türkiye Scholarships. So far, 140 students have come (to Turkey with these scholarships). We will increase this number in the future," he said.
The Turkish foreign minister revealed that preparations were underway for signing agreements with South Sudan in the fields of culture, defense and economic cooperation.