South Sudan says America is not a 'partner' after arms embargo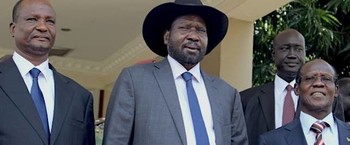 File photo.
South Sudan's government blasted Sunday the U.S. after President Donald Trump imposed an arms embargo against Juba last week, saying America was not its partner.
The United States banned the export of weapons and defense services to South Sudan in a reflection of its growing frustration over the newest nation's bitter conflict.
U.S. Ambassador Nikki Haley said recently Washington is giving up on President Kiir after investing over $11 billion since the country's independence in 2011, calling him "an unfit partner" in the pursuit of peace.
"It is the Chinese who will build the roads in South Sudan, not Americans because they are not our partners in our economy. The partners are Chinese and the other potential partners are Russians, they are building a refinery, the first refinery in South Sudan. So these are the people who have been defending us," said Taban Deng Gai, South Sudan's First Vice President, on Sunday. "During the war of liberation, I have never seen the American M16 … I know AK-47, I know the support from Russia, I know the support from Libya, I know the support from Ethiopia and I know the support from Yemen."
The second top South Sudanese official said the government will not collapse because of the U.S. sanctions. "Our friends are there. America wanted to impose this arms embargo through the United Nations, but it is because Russia has refused; it is because China has refused. The little dollars we have in South Sudan today it is because of oil. Our partners in oil are Chinese," he said.
Gai said South Sudan government will lodge a complaint against the United States to Russia and China in protest against the arms embargo.
Recall of ambassador
The country's first vice president said they recalled their ambassador to Washington to protest US arms embargo. "We have decided to recall our ambassador from Washington. Our ambassador Garang Diing has been recalled to Juba. We have recalled our ambassador and they [Americans] know the meaning diplomatically," he said.
Call for peace
Gai called on South Sudan leaders to make peace." I believe also sanctions will not be implemented by IGAD because we a member of IGAD countries. We are a member of the East African countries, and we have our internal regulations and laws," he said.
"Let's put our house in order, let's make peace. It is the Chinese who will build the roads of South Sudan," he added.
He hoped that China and Russia will continue supporting South Sudan's government during tough times.
Peace talks and U.S. sanctions
The top official said the latest U.S. arms embargo against the South Sudanese government could derail the ongoing peace process. "Why should the opposition rush for peace if they know America is fighting on their behalf? What will be their incentive for peace? They will be intransigent, and they will say we do not want Salva Kiir to lead the interim period," he said.
"They [rebels] will say the parliament must be dissolved, they will say the unity government must be dissolved, they will say the army must be dissolved. Riek Machar said this from his residence in South Africa … and said the whole system must be dissolved."
The South Sudanese politician questioned President Trump's commitment to make peace in South Sudan. "I don't think he [Trump] is for peace because if peace comes to South Sudan … we shall eat our cassava, we shall eat our sweet potatoes and we shall eat our corn," he said.
Gai was speaking at the closing ceremony of the 3rd National Unity Day in the capital Juba over the weekend. The event was attended by senior government officials, youth and a representative of the Japan International Cooperation Agency (JICA).