South Sudan's rebels accuse govt of truce violation in Wau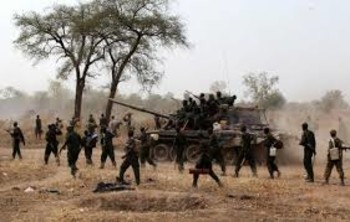 South Sudan rebel fighters on Monday accused government troops of violating ceasefire truce as face-to-face talks begin between President Kiir and opposition leader Riek Machar in Khartoum.
Lam Paul Gabriel, SPLA-IO deputy spokesman said government forces have launched attacks on their defensive positions at Omboro in Wau this morning.
"The regime sent a heavy force of SPLA-IG combined with JEM militias on one Ural truck and seven Land Cruisers, escorted by four APCs to attack the SPLA-IO defensive position in Omboro in Wau," Lam said in a statement.
He called on ceasefire monitoring body (CTSAMM) to investigate and hold the government accountable for the violation of the truce.
This comes after the parties at the talks in Addis Ababa last month agreed to recommit themselves to the cessation of hostilities agreement signed in late December 2017.
For his part, SPLA spokesman Lul Ruai Koang denied any attack in the area.
"I also want to say that there are no Sudanese rebels in South Sudan. The Sudanese rebels returned to their country as part of the joint cooperation agreement, so what is being said is a total lie," he said.
"There is no fighting because peace talks are ongoing," he added.