SOUTH AFRICA -
1 Jun 2017
South Sudan's rebel chief urges UN to end his exile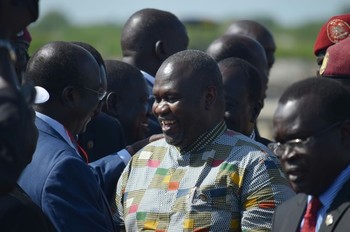 File photo: Riek Machar meets with his supporters after landing at Juba international airport on April 26, 2016 (AFP)
South Sudan's rebel chief Riek Machar has urged the UN Security Council to end his exile and the international policy of isolating his opposition group for the sake of peace in the country.
Machar, who fled to Democratic Republic of Congo in August 2016 after fierce fighting in Juba, is being held in South Africa to prevent him from going back to South Sudan.
Speaking from South Africa, Machar told the UN Security Council via video link on Wednesday that his rebel faction could still engage fully in finding a peaceful resolution to the ongoing conflict in the world's youngest nation.
"End the international policy of isolating the SPLM (IO) including my release from confinement and detention so as to enable our full engagement in finding a peaceful resolution to this conflict," said Machar.
The opposition leader stressed the need for a new apolitical process for peaceful settlement of the conflict in South Sudan using the 2015 peace agreement as its basis.
He called on the United Nations to convene an inclusive humanitarian forum to immediately establish a humanitarian mechanism to enable unhindered humanitarian access and ensure security of aid workers.
Machar accused Kiir's government of adopting a scorched earth policy that he said has affected nearly all South Sudanese communities.