ADDIS ABABA -
15 Feb 2018
South Sudan's parties to negotiate power sharing proposal today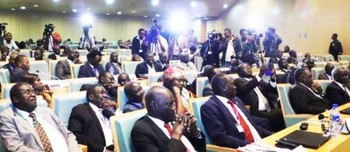 South Sudan's warring parties at the ongoing peace talks in Addis Ababa would negotiate a power-sharing proposal today, a top official at the peace talks said.
The official told Radio Tamazuj this morning that the parties would deliberate on a proposal for power sharing after the IGAD mediation finalized its consultative meetings with various stakeholders on Wednesday.
"IGAD mediators have already finalized their consultations with the government, armed opposition groups, civil society organizations, faith-based groups , women and youth on a power sharing proposal," he said.
"If the parties reach an agreement on the power sharing ratios, then tomorrow will be the day for a peace agreement," he said.
An East African bloc, IGAD, has been facilitating the South Sudanese peace process in an attempt to bring about peace in the world's youngest nation.