JUBA (Reuters) -- By Hereward Holland -
4 May 2013
South Sudan's Palouge oilfield to reach 180,000 bpd in a month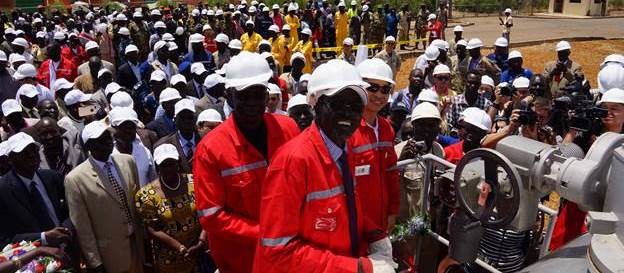 South Sudan's Palouge oilfield, the country's biggest, will reach production of up to 180,000 barrels per day within a month after starting at 125,000, oil consortium Dar Petroleum said on Sunday, ramping up output slower than initially planned.
Landlocked South Sudan reached an agreement with long-time foe Sudan during talks in Addis Ababa in March to resume pumping of the south's oil to a Red Sea port in Sudan for export, throwing both economies a lifeline.
The African neighbours came close to war a year ago but pledged in March to end a conflict over oil fees and a disputed border. South Sudan had shutdown its previous output of up to 350,000 bpd in January 2012 when tensions with Sudan escalated.
"Within a month, we should be reaching 165,000 to 180,000 and we would expect to reach the level where we were before the shutdown by early next year," Dar Petroleum President Joseph Podtung said during a ceremony to restart production at Palouge, which came a month later than initially predicted.
Partners in the consortium producing Dar Blend at the blocks 3 and 7 in Palouge include China National Petroleum Corp and Malaysia's Petronas.
DELAYS
The African country is restarting production slower than initially planned. Officials had forecast last month an output of 200,000 bpd by April 15.
Originally the country had planned to have resumed oil exports by January but mistrust between the neighbours delayed the set up of a border buffer zone, a condition for Sudan to let through southern oil.
Damage caused by cross-border skirmishes a year ago means South Sudan can only gradually ramp up production in its Unity State oilfields, which is mixed to produce Nile Blend, a light, sweet, waxy crude. Production started there on the small Jath Thar oilfield in early April.
Industry experts say Nile Blend is likely to remain at around 30,000-40,000 bpd for at least six months.
South Sudan's Oil Minister Stephen Dhieu Dau said the first oil cargo would reach Port Sudan by May 20, when President Salva Kiir plans to visit Sudan.
"This symbolic event of launching oil resumption is what the people of South Sudan were awaiting. This is also a message of peace that the agreement that was signed in Addis Ababa in September 2012 is now being implemented," Dau told a crowd on Sunday at a ceremony at the oil field.
Finance Minister Kosti Manibe said it would take until June until South Sudan would be paid for the oil exports.
The oil shutdown had thrown both countries into turmoil as they depend on oil revenues and pipelines fees to fund food and other imports.
By Hereward Holland (Reuters)
Gallery: SPLM photo release