South Sudan's oil production rises slightly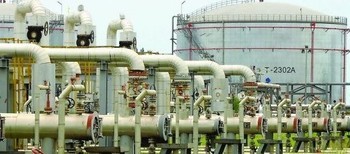 A section of the plant at the Dar Petroleum Operating Company oil production operated in Paloich oil field in Upper Nile
South Sudan's oil production made a slight rise to 177, 000 barrels per day last week thanks to the resumption of oil pumping, the oil minister said.
Minister Awou Daniel Chuang told reporters in Juba on Tuesday that they plan to pump more crude oil by the end of this month.
"The current production is around 177,000. We have increased the production last week by 1,500 bpd or 2,000 bpd, and we are going to increase by around 4,000 by the end of this month," he explained.
The minister further said they plan to increase oil production up to 180,000 barrels per day by the end of this month as the country hopes to restore crude production to the levels it reached when it gained independence.
Before the conflict in 2013, South Sudan was producing 250,000 barrels per day.
Awou said they had suspended crude oil pre-sale contracts in an attempt to lift pressure on the country's ailing economy.
"The pre-sale agreement that we used to have was destroying the value of our resources, so when we sell our crude oil in the open market, we get more resources, which means we don't have any deductions, "he said.
"We have already started by selling the crude oil of August, because we usually sell our oil two months earlier, and we have got a premium better than what we used to have," he added.
The official pointed out that the country's oil money would be transferred to the finance ministry.
For his part, Finance Minister Salvatore Garang said oil revenues are divided into two parts by the government. "The 170,000 bpd is divided into two because there are oil costs. Ours is 42% of the 170,000 barrels per day, so that is what we get from the oil revenue," he said.
Income from oil accounts for 98 percent of the country's budget.
The world's youngest nation, which has one of the largest reserves of crude in sub-Saharan Africa, is struggling to increase oil production months after the signing of the peace deal in September 2018.
Last month, South Sudan cabinet said it would borrow $500 million from the African Export-Import Bank to bridge the widening gap in its budget.