South Sudan's Machar returns to Khartoum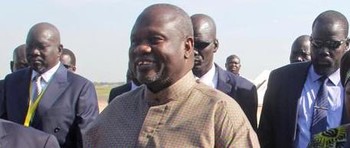 South Sudan opposition leader Riek Machar on Monday returned to the Sudanese capital from Ethiopia where he held multiple meetings.
According to a statement extended to Radio Tamazuj, Pouk Both Baluang, the SPLM-IO's director for information said Machar landed in Khartoum on Monday evening.
Machar, who under the terms of the peace deal is to be reinstated as first vice president, went to Addis Ababa on 21 July in response to the invitation extended to him by the UN's Special Representative on Sexual Violence in Conflict, Pramila Patten.
Baluang said Machar and Mrs. Patten discussed issues related to peace and sexual violence in South Sudan.
The opposition official pointed out that Machar also held separate meetings with stakeholders during his stay in Addis Ababa.
Machar, who resides in neighbouring Sudan, is not allowed to travel freely to countries under the Intergovernmental Authority on Development (IGAD), a regional grouping.
The regional grouping that brokered the South Sudan peace deal is lobbying for a face-to-face meeting between President Salva Kiir and opposition leader Riek Machar to build confidence and discuss the challenges of the peace agreement.
The government has been insisting that Machar can only meet President Salva Kiir in Juba. But the opposition SPLM-IO wants a meeting to take place in Addis Ababa.
Creating a unified army and determining the number of states remain the most challenging issues in the revitalized peace agreement.