South Sudan's Kiir sacks deputy finance minister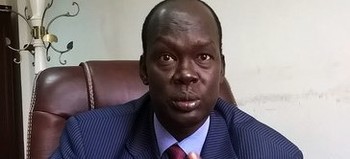 Photo: Goc Makuac, February 15, 2015. (The Niles/Deng Machol Monyrach)
South Sudan President Salva Kiir has sacked the country's deputy finance minister, Athian Diing Athian, as the country struggles to revive its economy.
Kiir issued a decree on July 27 ordering his dismissal and replacement by Goc Makuac, said the official television.
The South Sudanese leader named Goc Makuach Mayol, a former chairperson of the parliamentary committee for finance, to assume the position after sacking Diing on Friday. He gave no reason for Diing's sacking.
After more than four years of civil war and steep fall in global oil prices over the past years, hyperinflation has sent prices soaring in the youngest nation.
Residents of Juba told Radio Tamazuj on Friday that the prices of commodities are skyrocketing although the local currency started to appreciate against the US dollar recently.
The governor of central bank Dier Tong said that a series of reforms will be adopted to ensure the US dollar drops against the local currency in order to stabilize the market.