South Sudan's Kiir hints at dropping 32 states issue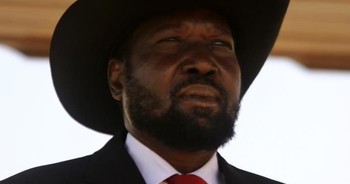 Photo: President Salva Kiir
The gap between South Sudan government and the opposition over the issue of the states might be narrowing after President Kiir had indicated that he might drop the demand to maintain the current 32 states.
The latest compromise on the issue of the controversial states by South Sudan government represents a major shift in its policy.
In a press statement issued on Saturday, the South Sudanese presidential press unit said President Kiir met cabinet minister Martin Elia Lomuro and gender minister Awut Deng Achuil at the State House in Juba.
The statement further said President Kiir directed his negotiating team in Khartoum to make every effort to achieve peace in South Sudan.
"President Kiir has directed the negotiation team to make sure the states issue should not be an obstacle to peace," said the statement.
Kiir's order to create 32 states was labeled by the opposition as unconstitutional and contrary to the 2015 peace agreement which was based on 10 states.
But the government maintained that President Kiir was responding to the will of the people when he acted to create new states.