South Sudan's Kiir grants amnesty to Machar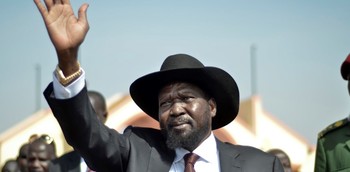 South Sudan President Salva Kiir on Wednesday night declared an amnesty for Riek Machar, who had signed a new peace deal with him in Khartoum.
Riek Machar, the main South Sudanese opposition leader, was one of the opposition leaders that Kiir said he had pardoned, in a decree read out on state media.
The East African regional bloc IGAD, which is mediating the South Sudan peace talks, lifted Machar's house arrest in South Africa in June in order to negotiate with Kiir to end the conflict.
"Republican order number 14 for the year 2018 for the grant of general amnesty to the leader of SPLM-IO Dr. Riek Machar Teny and other estranged groups who waged war against the Government of the Republic of South Sudan from 2013 to date," reads Kiir's order.
Kiir also repeated the permanent ceasefire he had declared with the opposition in June.
However, Kiir advised the army to remain vigilant in their bases and to fight back in self-defense.
The South Sudanese leader also ordered his forces to allow unhindered access of humanitarian relief convoys to their targeted destination.