South Sudan's Kiir draws red line on hate speech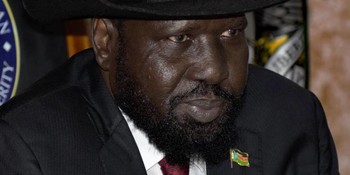 President Salva Kiir (Photo credit: South Sudan Presidential Press Unit)
South Sudanese president Salva Kiir has called for a red line to be placed on hate speech during the upcoming unity government which will run for three years.
On 5 August, Kiir and opposition leaders including his archrival Riek Machar signed a peace agreement to end civil war in the country.
According to a statement issued by Kiir's press office, the president warned against hate-filled rhetoric when members of the opposition return as part of the signed peace deal.
The South Sudanese leader, the statement added, announced that a red line has been placed on hate speech throughout the implementation of the peace agreement.
It further said Kiir explained that such red lines will lead to stability, stressing that the country needs peace and stability.
The statement said President Kiir urged state governors to sensitize citizens about the signed peace agreement.
The President, according to the statement, was speaking at the swearing-in ceremony of the newly appointed governors of Aweil, Northern Upper Nile and Twic States in Juba on Friday.