South Sudan's Kiir declines to attend IGAD summit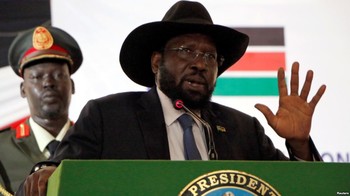 File photo: South Sudan's President Salva Kiir delivers a speech during the launch of the National Dialogue committee in Juba, South Sudan May 22, 2017. REUTERS/Jok Solomun
South Sudan's President Salva Kiir has decided not to take up an invitation from the East African regional bloc IGAD to attend an extraordinary summit in the Ethiopian capital, Addis Ababa on Monday, his office said on Thursday.
The IGAD summit, to be attended by heads of state and government from IGAD countries, will discuss the dire security and humanitarian situation facing South Sudan and the obstacles to the implementation of the signed peace deal.
President Kiir's spokesman, Ateny Wek Ateny, said Kiir will not attend the IGAD summit. "He [President Kiir] will not attend the IGAD summit. The president has already sent a letter of apology through the minister in his office," said Ateny when contacted by Radio Tamazuj.
"There are no reasons, but the president is attending to other things here in South Sudan. The team that will represent the president has not yet been formed," he added.
He pointed out that Kiir is having other commitments within the country. However, Ateny declined to delve into details of such commitments that Kiir will be committed to do on Monday.
The South Sudanese leader was expected to attend the IGAD summit in order to iron out the difficulties in finding amicable solutions to the dire security and humanitarian situation in his country.
The presidential spokesman claimed that his government is implementing the 2015 peace accord and that the national dialogue would also consolidate the peace process.
On Tuesday, Hailemariam Desalegn, chairperson of the Intergovernmental Authority on Development (IGAD), called for an extra-ordinary summit in Addis Ababa.
Desalegn, who is also the Ethiopian prime minister, said the implementation of the 2015 peace deal in South Sudan is lagging behind and that the fighting was still continuing, despite a declaration of ceasefire and attempts to re-invigorate the national dialogue.