South Sudan's Kiir declares permanent ceasefire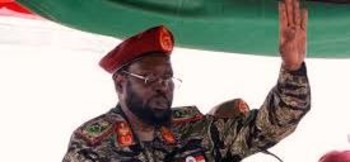 Photo: President Salva Kiir
South Sudan President Salva Kiir declared a permanent ceasefire this evening in what many hoped would mark a definitive end to the ongoing fighting.
President Kiir and the opposition on Wednesday agreed to a permanent ceasefire to take effect within 72 hours, raising hopes of a peace deal between the warring parties.
In a presidential order read out on state-run SSBC, Kiir declared a permanent ceasefire throughout the Republic of South Sudan with effect from June 30.
"I do herby issue this republican order for the declaration of permanent ceasefire with effect from 30th June, 2018 and to continue in full operation permanently until otherwise," partly reads the order.
However, Kiir advised the SPLA army to remain vigilant in their defensive positions and to fight back in self-defense.
The South Sudanese leader also ordered his forces to allow unhindered access of humanitarian relief convoys to their targeted destination.