Kiir appoints governors for eight states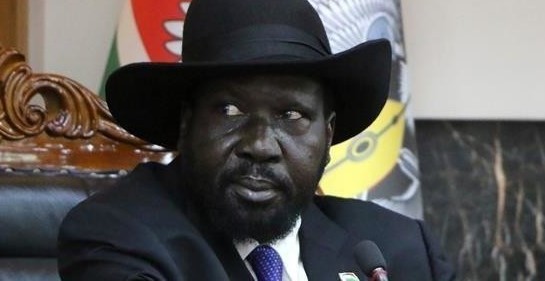 South Sudan President Salva Kiir (file photo)
President Salva Kiir has appointed governors for eight states – Eastern Equatoria, Western Equatoria, Central Equatoria, Lakes, Northern Bahr el Ghazal, Western Bahr el Ghazal, Warrap and Unity.
This comes two weeks after President Salva Kiir and first vice president Riek Machar agreed on the process for nominating governors in the country's 10 states.
Emmanuel Adil Anthony, who was the governor of the defunct Yei River State, has now been appointed as the governor of Central Equatoria State while Louis Lobong Lojore will be the governor of Eastern Equatoria State.
Makur Kulang has been appointed as the governor of Lakes State while Tong Aken Ngor has been appointed as the governor of Northern Bahr el Ghazal state.
Kiir has appointed Dr. Joseph Nguen Monytuil as the governor of Unity State while Bona Panek Biar will be the new governor of Warrap State. The president also appointed Sarah Cleto Rial as the new governor of Western Bahr el Ghazal State.
Alfred Futiyu, the SPLA-IO sector commander in Western Equatoria, has now been appointed as the new governor of Western Equatoria State.
The presidential decree announced on state television said the appointments of the new governors take effect from June 29.
The governors for Jonglei and Upper Nile states haven't been named.
It remains unclear why the governor for Upper Nile State, who was to be selected by Machar's Sudan People's Liberation Movement-In Opposition (SPLM-IO), was not appointed.
A third signatory to the peace deal, the South Sudan Opposition Alliance, is still divided over the selection of a governor for Jonglei state.
Kiir instructed the Secretaries-General and County Executive Directors in Jonglei and Upper Nile states to continue to act in their respective positions, pending appointment of the two governors.
The president has also removed Kuol Alor Kuol from his position as the chief administrator of the Abyei Administrative Area and appointed Kuol Dim Kuol as the new chief administrator.
Kiir also appointed Joshua Konyi as the new chief administrator of the Pibor Administrative Area while William Chol Awolich will be the new chief administrator for Ruweng Administrative Area.
Edmund Yakani, a South Sudanese observer, welcomed the appointment of state governors in line with the implementation of the September 2018 peace agreement.
"The disappointing aspect of the state governors' appointment by the parties is the violation of the 35% for women representation under Article 1.4.4 of the R-ARCSS," said Yakani.
Yakani, however, congratulated Machar's camp for appointing a female governor for Western Bahr el Ghazal State. "The state governors should immediately start reconciling the communities," he said.