Government says oil installations secure after capture of Pagak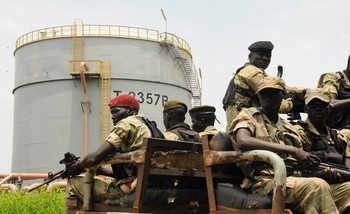 File photo: Security forces patrol the Dar Petroleum Operating Company oil production operated in Palogue oil field within Upper Nile State in South Sudan, September 7, 2016. (REUTERS)
South Sudan's government said on Wednesday its crude oil installations were safe, after its troops drove away rebel forces from areas near Palogue area in the Upper Nile region.
Information Minister Michael Makuei said at a press conference in Juba yesterday that the oil installations in Palogue area are no longer under threat after government troops had captured the main rebel stronghold of Pagak.
"In Palogue area, the rebels had been attacking our oil installations all the time and as a result in order to protect our only source of income…when they attacked us, we decided to give them a hot pursuit up to their last destination, so as a result we captured Pagak," he said.
The government spokesman criticized the international community for failing to condemn rebel attacks on oil fields in Upper Nile and recent attacks on the town of Kaya near the Ugandan border. "Nobody talked about the violation by the rebels," he said.
More than 90% of the country's economy is based on oil revenue, and the civil war that erupted in December 2013 has hit the country's economy hard.
Tens of thousands of South Sudanese have died and more than 3.5 million have been forced from their homes since the outbreak of civil war.