WASHINGTON DC -
5 Mar 2018
South Sudan's elite used oil to fund deadly militias, get richer – report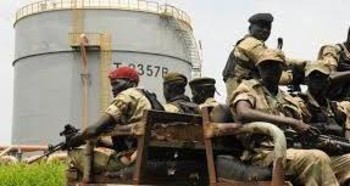 Security forces patrol the Dar Petroleum Operating Company oil production operated in Palogue oil field within Upper Nile State, September 7, 2016. REUTERS.
A new report from a group co-founded by actor George Clooney exposes high levels of corruption in the oil sector in South Sudan. The report sheds new light on how the country's oil is used to support militias and ongoing atrocities in the world's youngest nation.
The ongoing investigation by The Sentry, a group co-founded by Clooney and activist John Prendergast of the Enough Project, found that South Sudan's elite is using the country's oil wealth to get rich and terrorize civilians.
The Sentry report purports to describe how funds from South Sudan's state oil company, Nile Petroleum Corporation (Nilepet), helped fund militias responsible for horrific acts of violence.
Citing a document provided by an anonymous source, The Sentry said today the document appears to be an internal log kept by South Sudan's Ministry of Petroleum and Mining detailing security-related payments made by Nilepet.
"The document titled, "Security Expenses Summary from Nilepet as from March 2014 to Date" ("the Summary") lists a total of 84 transactions spanning a 15-month period beginning in March 2014 and ending in June 2015," the report said
The group said the key information contained in the documents it found indicates that more than $80 million was recorded as paid to South Sudanese politicians, military officials, government agencies, and companies owned by politicians and members of their families who were, according to the Summary, paid for services such as military transport and logistics to forces implicated in atrocities.
It further said South Sudan's petroleum ministry assisted in the provision of food, fuel, satellite phone airtime and money to a group of militias in Upper Nile state, according to the Summary. The militias are reportedly responsible for destroying villages and attacks against civilians, including a February 2016 attack against civilians at a U.N. site in Malakal that left dozens dead.
The Sentry said Interstate Airways, partially owned by South Sudan First Lady Mary Ayen Mayardit, reportedly received six payments beginning in April 2014 for army logistics and transportation of military hardware.
It pointed out that Nile Basin for Aviation, a little-known airline owned by family members of top military and government officials, including the wife of former military chief of staff Paul Malong and a nephew of then-petroleum minister and current Minister of Finance and Planning Stephen Dhieu Dau, is identified in the Summary as receiving payments from Nilepet in early 2015 for military logistics operations.
According to the Summary, The Sentry said, Crown Auto Trade, a Toyota dealership with a majority owner—Obac William Olawo—who is a prominent South Sudanese businessman, received over $8 million in payments from Nilepet in 2014 alone for activities ranging from supplying vehicles to importing armored personnel carriers and transporting tanks and supplies.
A report by Control Arms, a research and advocacy group, stated that the type of armored personnel carriers described in the Summary were "observed in different locations within South Sudan between May and December 2014, including in areas of Unity State where the conflict has been intense.
The Sentry said Olawo denied that any of his companies have ever been involved in transporting troops, weapons, or equipment for the military. He said that the documents and reports suggesting as much may be confusing his company with "Sierra" an operation connected to Erik Prince, who he said is one of his business partners.
The group indicated that there are indeed two payments recorded in the Summary that mention Prince's company, Frontier Services Group, in connection with "Project Sierra." Two $16.4 million payments were recorded as paid in July and October 2014, labeled "Air Logistics & Support Services... (Project Sierra, Frontier Services Group)."
The Sentry said Olawo described Sierra as an air cargo operation for the Sudan People's Liberation Army (SPLA) and the National Security Service. In April 2016, The Intercept reported that FSG had attempted to provide attack aircraft to the Government of South Sudan in addition to other defense-related services. Representatives from FSG have previously denied doing business with South Sudan's military but did not respond to questions about the payments described in the Nilepet security expenses summary, according to the report.
It pointed out that the Summary also lists Golden Wings Aviation—another company owned by Olawo—alongside several other companies in connection with a $4,250,802 payment dated June 1, 2015, labeled "payment for army logistics operation." The company is also mentioned by the U.N. Panel of Experts on South Sudan as having transported weapons to Unity state on several occasions during a period of particularly horrific violence in 2014 and 2015.
The Sentry recommended that the United States, European Union, and others in the international community should investigate the top officials who have played a role in military operations that have resulted in atrocities and, where appropriate, impose network-focused sanctions on them, their business associates and facilitators, and the companies they own or control.
It called for the use of sanctions related to the oil sector, saying given the ubiquitous use of the U.S. dollar in the oil sector, such a measure could have a strong impact.
"Banks and financial regulators should step up efforts to halt the flow of illicit funds out of South Sudan. Banks found to be connected to be money laundering may incur heavy penalties and be subject to other law enforcement measures," the group said.
The group urged South Sudan's neighbours to escalate financial pressure on South Sudan, or Risk to their own financial systems. "Ethiopia, Kenya, and Uganda have been reluctant to enforce and escalate international political and financial pressures," it said.
John Prendergast, Co-founder of The Sentry and Founding Director of the Enough Project, said: "Our investigation indicates that members of South Sudan's ruling clique appear to be profiting from the war itself. In order to build the leverage needed for peace, the international community should target the assets of those responsible for continued violence and deny them from accessing the international banking system.
Meanwhile J.R. Mailey, Special Investigations Director at The Sentry, said: "South Sudan's leaders should be using South Sudan's natural resources to benefit the population—but the documents we have obtained indicate that they have used the country's oil to buy weapons, fund deadly militias, and hire companies owned by political insiders to support military operations that have resulted in horrific atrocities and war crimes."
South Sudan's oil minister, Ezekiel Lol Gatkuoth has recently claimed that the country's economy is booming, drawing condemnations by several lobby groups in the country.
"As a minister of petroleum, we are working to make sure that the money we are getting from oil is actually used to provide services," he said.