South Sudan's deputy defense minister sacked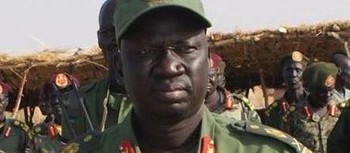 File photo: Thoi Chany
South Sudan's President, Salva Kiir, sacked deputy defense minister Thoi Chany Reat on Friday evening, state media reported, quoting a decree from the president.
President Kiir made no replacement. The decree gave no reason for the removal of Thoi Chany who was appointed in 2016.
Chany was a nominee of the defunct faction of the SPLM-IO group led by the country's first vice president, Taban Deng Gai.
The faction controlled by Gai joined the country's ruling party led by President Salva Kiir after an SPLM convention held in Juba with the goal of reunifying the historical party.