NETHERLANDS -
31 Aug 2019
South Sudan's Amum unveils new party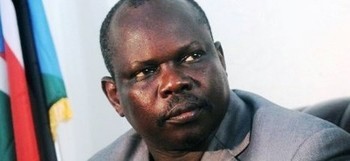 Photo: Pagan Amum
Leading South Sudanese dissident Pagan Amum on Friday unveiled a new party he said was aimed at achieving the SPLM party's vision.
The former secretary general of the ruling SPLM party said the goal of his new opposition group was "to realise the historical party's vision that has deviated from its course."
Amum, who had relinquished his role as leader of the former political detainees in June, told Radio Tamazuj from the Netherlands that he and other like-minded colleagues have formed a new organisation called the Real SPLM.
"General Oyai Deng Ajak, Dr Cirino Hiteng and I were part of the meeting of the opposition groups that took place in The Hague in order to represent the Real SPLM," Amum said.
"The Real SPLM is a new organisation we have formed in order to mobilise and reorganise the SPLM members who are committed to the SPLM vision as designed by the late founder Dr. John Garang de Mabior," he added.
Mr Amum differed with President Salva Kiir over organisational matters before the conflict erupted in December 2013. The SPLM fractured into different groups after the devastating civil war.
The Sudan People's Liberation Movement (SPLM) is the governing party of South Sudan initially founded as the political wing of the Sudan People's Liberation Army which fought for South Sudan independence.
The outspoken dissident and critic of the government said President Kiir has destroyed the historical party which fought for democracy and freedom in South Sudan.
"We want to live in a country where the rule of law is respected… The vision was to build a democratic country and one nation," he said.
The former leading SPLM official has claimed the moral right and responsibility to retain the SPLM party's name. "We decided to retain the SPLM's name because we struggled to achieve the SPLM program. Also, we have a moral responsibility to return to the SPLM vision that was betrayed by our former comrade Salva Kiir Mayendit," he said.
"We don't see any problem in keeping the SPLM's name because our new organisation is completely different from the party which is now calling itself the ruling party. The party which is in Juba now is not committed to the SPLM program," he added.
"We will reorganise the membership of the SPLM party that was scattered by Kiir. We will also recruit new members who believe in the SPLM vision as envisaged by the late Dr. John Garang de Mabior".
Pagan Amum rebelled against the Sudanese government in 1982. His group joined with other rebel groups in 1983 to form the Sudan People's Liberation Movement (SPLM) under the leadership of the late Dr John Garang.