South Sudan rivals trade blame over states deadlock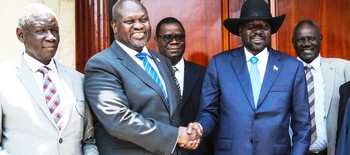 UN Photo/Isaac Billy | President Salva Kiir (centre) and SPLM-IO leader Dr. Riek Machar met on 11 September 2019 in Juba
South Sudan's political rivals accused each other of procrastination that delayed the formation of state governments.
President Kiir's side and opposition parties are stuck in a deadlock over states allocation, despite attempts by peace monitors to mediate. The hardening of positions stokes fears among many observers that the September 2018 peace deal could unravel.
The president's spokesman, Ateny Wek Ateny, told Radio Tamazuj on Monday they held several meetings to resolve the deadlock; however no breakthrough has taken place.
Ateny blamed Machar's SPLM-IO party for the delay in the selection of state governors, saying the parties are still in disagreement over the allocation of states.
"The SPLM-IO is to blame for the delay in the issue of states," said Ateny.
For his part, Machar's spokesman James Gatdet Dak confirmed parties to the peace deal have been locked in a three month-long impasse over the sharing of state leadership positions.
Gatdet has accused the president's side of reneging on a previous agreement to allocate Upper Nile, Eastern Equatoria and Lakes State to the opposition SPLM-IO.
"Because there was a deadlock, the matter is in front of IGAD. So, we are still waiting for IGAD to respond," said Gatdet.
However, the first vice president's spokesman appealed to President Salva Kiir to allocate Upper Nile, Lakes and Eastern Equatoria states to the SPLM-IO in order to end the three month-long deadlock over the allocation of the country's 10 states.
A communication advisor to RJMEC told Radio Tamazuj last month the matter had been referred to the IGAD Heads of States and Government, of which Abdalla Hamdok, Prime Minister of Sudan, is chairman, for their intervention pursuant to Article 7.11 of the revitalised peace deal.
"IGAD, as guarantor of the peace agreement is expected to provide direction on this matter," said Guy Gabriel, the communication advisor to RJMEC.