ADDIS ABABA/JUBA -
14 Aug 2019
South Sudan rivals to meet over stalled peace deal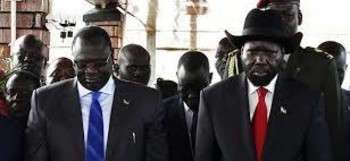 South Sudan's rival parties will meet in Ethiopia next week, in a bid to salvage the peace deal, with three months left before a unity government is meant to be formed.
President Salva Kiir, opposition leader Riek Machar and a handful of other opposition groups signed the peace deal in September 2018.
However creating a unified army and determining the number of states remain the most challenging issues in the agreement.
The Intergovernmental Authority on Development (IGAD), a regional bloc, invited all parties to the peace deal for a meeting in Addis Ababa on 21 August.
The regional grouping that brokered the South Sudan peace deal said there is lack of progress in tackling pending tasks of the peace agreement.
Gedu Andargachew, Ethiopia's foreign minister and the current chair of IGAD Council of Ministers, said in a letter that the meeting will take place in the presence of representatives of IGAD member states.
Manawa Peter Gatkuoth, deputy spokesman of the opposition SPLM-IO, told Radio Tamazuj this afternoon that their group would be represented by at least three members.
"We have received the invitation letter from the chair of IGAD Council of Ministers. The invitation letter was extended to all parties to the peace agreement," Manawa said.
"The SPLM-IO leader Riek Machar, deputy chairman Henry Odwar, Madam Angelina and our member of IBC Peter Marcello are expected to be there," he added.
He revealed that the meeting will discuss the final report of the Independent Boundaries Commission (IBC), a body tasked to settle the dispute over the number of states in South Sudan.
Manawa pointed out that a political decision will be taken in order to break the deadlock over the number of states in the country.
The IBC consists of 15 members nominated among the parties, supported by five experts nominated by the member states of the African Union High Level Ad Hoc Committee on South Sudan (South Africa, Algeria, Chad, Nigeria and Rwanda).