South Sudan rival forces clash in Maridi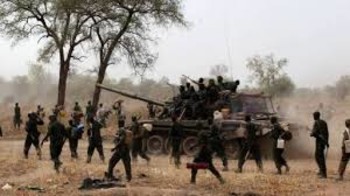 Fresh clashes erupted at Fergsika and Bahr-Olo area in Maridi State between government forces and opposition forces loyal to rebel leader Riek Machar over the weekend, killing six people, burning houses and looting property.
A local resident told Radio Tamazuj on Monday that a government force convoy on its way to Maridi from Mundri town was ambushed by SPLA-IO forces at Bahr-Olo last Friday, sparking clashes that continued till Sunday morning.
He claimed that the opposition forces defeated government forces, making the government forces angry and they started to burn civilian houses in the area, leading to the killing of the six people including a woman and her child who were allegedly burned to death inside their house.
Lam Paul Gabriel, SPLA-IO deputy military spokesperson, confirmed that there had been confrontations between the two rival forces since last week in Zangwa and Bahr-Olo areas.
He also accused the government forces of killing and burning houses of civilians.
Radio Tamazuj was unable to reach government officials in the area to comment on the matter.