South Sudan refugees in Uganda urge Kiir and Machar to sign peace deal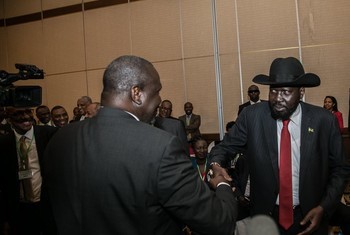 South Sudanese refugees who are currently living in various camps in Uganda's West Nile region have appealed to President Salva Kiir and opposition leader Riek Machar to agree and sign a compromised peace deal to end the ongoing conflict.
Speaking to Radio Tamazuj on Monday, several refugees said they were experiencing harsh conditions in the camps, calling on the two leaders to bring peace so they can return home.
Moses Taban, a South Sudanese refugee in Uganda, expressed optimism that the ongoing peace talks between Kiir and Machar will bring peace in South Sudan.
"I am hoping that if they have love and they feel the suffering of South Sudanese, they will bring our suffering to an end through lasting peace agreement. We are tired and we need peace now not tomorrow," he said.
Kaku Mary, another South Sudanese refugee, urged the leaders to stop the ongoing war and restore peace and stability in South Sudan.
"We need to go back to farm in our country and contribute towards development in our country. We expect the leaders to sign a peace deal so that we can get better hospitals, schools and roads and enjoy development," she said.
Another refugee called William Tombe called on South Sudan leaders to reflect on the history of the country and bring peace.