South Sudan refugees in Congo complain of food shortages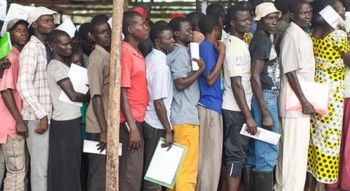 South Sudanese refugees queue for cash distributions at Meri camp in Haut-Uele province in the Democratic Republic of the Congo, December 2017. © UNHCR/Colin Delfosse
South Sudanese refugees in the rural northeast of the Democratic Republic of the Congo have complained of food shortages, saying the food being provided is not enough to meet the demands of their families.
Lawrence Tanga, a traditional leader at Meri Refugee Camp, told Radio Tamazuj on Monday that they are currently living in dire humanitarian conditions due to shortages of food and basic serveries.
Chief Tanga called on the South Sudanese government and the opposition to bring peace so they could return home.