South Sudan reconciliation talks: Outcome of Kiir-Garang meeting unclear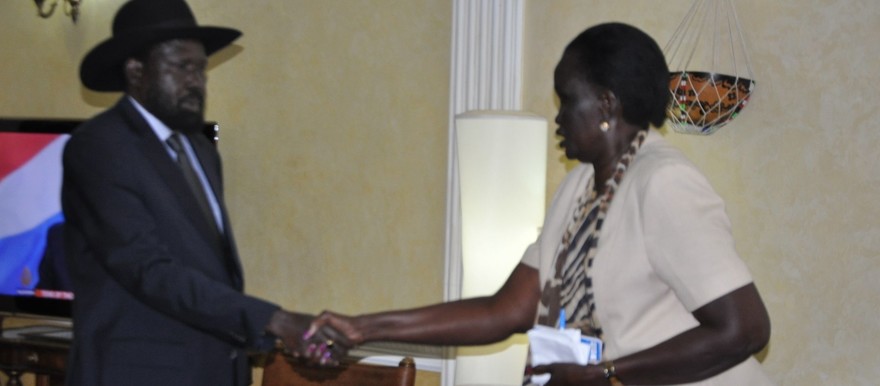 President Salva Kiir met with one of his critics Rebecca Garang at the Presidential Palace in Juba this afternoon to discuss reconciliation.
Garang, the former widow of SPLM founder John Garang de Mabior, was a key figure in the internal party struggle at the National Liberation Council in Juba that preceded the widespread violence started a week ago.
She has been linked to a group of ten prominent ex-ministers and other officials detained early last week on charges of an attempted coup, but she herself was spared arrest on orders of the president.
Appearing at a press conference immediately after her 4:00 p.m. meeting with the president, Rebecca Garang said that she had been called to the palace in order to discuss reconciliation. She said that neither she nor the president wanted to see violence spread further, as it already has to Jonglei and Unity States.
Clement Wani Konga, governor of Central Equatoria State, accompanied Rebecca Garang to the meeting, but he did not make any remarks to the press.
It is unclear whether there were any concrete outcomes of the meeting. Radio Tamazuj has learnt that Rebecca Garang may have asked for the release of the detained former ministers, but Kiir expressed 'reservations.'
The same demand has been made by Riek Machar, who told the BBC that he would only negotiate after the detained political leaders are released "and deported to neutral ground, for example Addis Ababa."
Photo: Salva Kiir and Rebecca Garang at the Presidential Palace in Juba on 22 December 2013 (Radio Tamazuj)
To contact Radio Tamazuj with comments, news tips or information, write to radiotamazuj@gmail.com.