South Sudan recalls ambassador to United States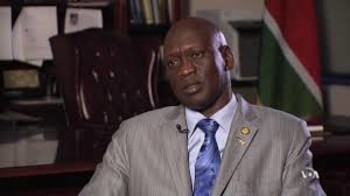 File photo: Garang Diing Akuang
South Sudan government has recalled its ambassador to the United States, a day after the Trump administration restricted the export of weapons and defense services to the youngest nation, deputy ambassador to the United States Gordon Buay Ateny said on Sunday.
Buay told Radio Tamazuj that Ambassador Garang Diing Akuang has been recalled to attend a meeting scheduled to take place in Juba on 18 February.
"The reports that Garang Diing was recalled because of a deepening row with the United States are untrue. The ambassador was recalled to present an annual report to the government. The foreign ministry has called for a meeting with head of missions to discuss economic issues,"Buay said.
He pointed out that the top diplomat will come to Juba to discuss the cost of rent of the country's embassy in Washington. 'The ambassador will come to Juba to talk about costs of renting. In the United States, we are paying a lot of money to rent the embassy building. We pay $30,000 monthly," Buay said.
The United States on Friday announced arms embargo on South Sudan and urged the UN Security Council to enforce a global arms ban on the world's youngest nation.