South Sudan rebels say repulsed government attack in Pagak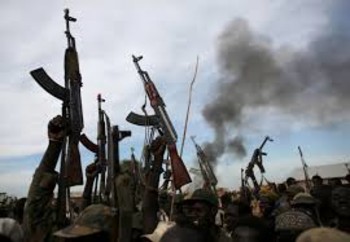 File photo: Rebel fighters hold up their rifles as they walk in front of a bushfire in a rebel-controlled territory in Upper Nile State, February 13, 2014. (REUTERS)
The South Sudanese rebels loyal to former first vice president Riek Machar said they repulsed government troops that attempted to attack their stronghold of Pagak on Saturday morning.
Pagak area was established as the opposition headquarters by Riek Machar when civil war began in the world's youngest nation in late 2013.
The rebels' military spokesman, William Gatjiath Deng, told Radio Tamazuj on Sunday that their troops successfully repulsed and drove away government forces from Pagak after fierce fighting.
Gatjiath claimed that the government troops retreated to Maiwut town after being repulsed from Pagak. However, he said that the town of Maiwut which was captured by the government forces on Thursday is currently in state of war.
He pointed out that the opposition forces are on one side and government troops on the other side of the town.
On Friday, the governor of Maiwut state claimed that government troops were reorganizing themselves in Maiwut town to attack Pagak.
The fighting in the world's youngest nation has killed tens of thousands of people and forced millions to flee their homes. An estimated 6 million people are severely food insecure this lean season.