South Sudan rebels say detained aid workers released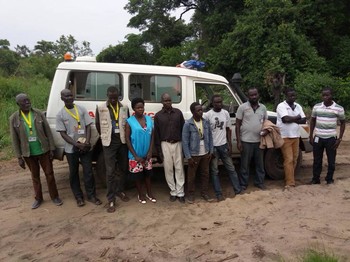 File photo: The seven aid workers released near the border with Uganda
Seven local staff working with an aid agency in South Sudan were released safely on Sunday morning after being held by rebel forces in Yei River State, the rebels said.
The seven aid workers were detained by rebels loyal to former first vice president Riek Machar since March 25 as they were delivering supplies to health facilities in the state, near the Uganda border.
Lam Paul Gabriel, a spokesman for rebel movement SPLA-IO, told Radio Tamazuj that the staff from the South Sudan Health Association were released on orders of rebel leader Riek Machar.
"All the seven aid workers were released with three vehicles to a delegation of the UNOCHA along the South Sudan-Uganda border," he explained.
Lam alleged that two among the released humanitarian workers were government spies." But Dr. Machar said all the workers should be released," he said.
UN Humanitarian Coordinator for South Sudan Alain Noudehou has recently called for the release of the seven aid workers detained by since March 25.