South Sudan rebels release detained Kenyan pilots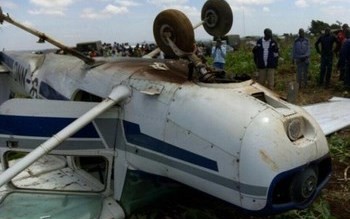 South Sudanese rebels allied to the country's former first vice president said they have freed two Kenyan pilots they were detaining in Akobo after receiving compensation for the family of a civilian killed when their plane crashed last month.
Captain Frank Njoroge and his co-pilot Kennedy Shamalla were being held by South Sudan rebels in Akobo area, in Greater Jonglei State.
Lam Paul Gabriel, deputy military spokesman of the SPLA-IO rebel group told Radio Tamazuj on Monday that that $107, 700 had been paid by the Kenya delegates.
Lam pointed out that the family of the civilian killed and those whose cows were killed have been compensated. "What we did as SPLA-IO was to provide protection to the pilots," he said.
John Daniel, the rebel-appointed secretary of information confirmed the release of the two pilots on Monday afternoon after the compensation had been paid.
"We have received the money and the families have been compensated in Akobo here," he said.