South Sudan rebels describe Kiir's national dialogue as 'one-sided'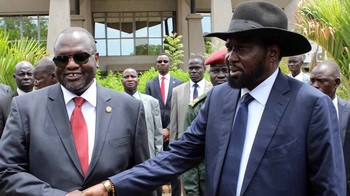 File photo: Kiir and Machar shake hands in July 2016.
South Sudan's armed opposition faction led by former First Vice President, Riek Machar, has described the national dialogue launched by President Kiir in Juba on Monday as "one-sided", saying it is another campaign by the Juba government to derail the 2015 peace accord.
Addressing the official launch of the national dialogue at Freedom Hall, President Kiir said: "Everybody is welcome to participate in the national dialogue except Riek Machar, because if he comes he will cause another war in Juba".
In a statement issued on Monday by the opposition faction's chairperson of the committee for information, Mabior Garang de Mabior, said Kiir's national dialogue was meant to portray the opposition as an obstacle to peace.
"If President Salva Kiir and his allies are honest and the intention is to achieve national healing, reconciliation and forgiveness; then, the lack of inclusiveness and out right prejudice in the selection of the so called Steering Committee, will make the entire processes redundant," partly reads the statement signed by Garang.
The opposition group further said the 2015 peace deal will address issues to do with unequal distribution and mismanagement of resources in South Sudan, saying the national dialogue will never bring change since it is not inclusive.
"The idea of replacing ARCSS with this one-sided national dialogue will make the parties to the conflict more sceptical. And that will make the entire process as aforesaid insignificant," according to the statement.
The SPLM-IO commended Kiir for declaring a unilateral ceasefire in the country, describing it as the best thing that can happen for the people of South Sudan. However, the group cautioned its supporters to be vigilant, saying Kiir's unilateral ceasefire could be a trick.
Machar's rebel group stressed that the signed peace agreement is the only solution to the conflict in South Sudan and called on the African Union and the United Nations to expedite the initiation of a reinvigorated and inclusive political process to rescue the suffering people of South Sudan.
"This immense suffering is compounded by a complete breakdown of law, which is reflected by the regimes expansion of ethnic killings, denying access to humanitarian relief and even looting of humanitarian relief intended for vulnerable people, including killing of aid workers, which is exacerbating the famine in the country," the statement said.
The group reiterated its full commitment to implement a negotiated settlement as the only solution to the ongoing civil war and the resuscitation of the peace deal as the basis for this new political process.