South Sudan rebels deny attacking government in Nasser town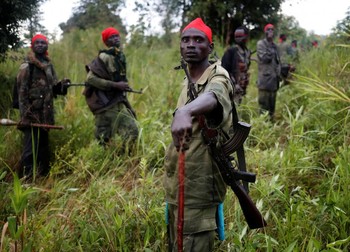 SPLA-IO (SPLA-In Opposition) rebels stand after an assault on government soldiers, outside the town of Kaya, August 26, 2017. REUTERS/Goran Tomasevic
South Sudan's rebels loyal to the country's former first vice president Riek Machar on Tuesday dismissed government claims that their forces recently attacked government positions in Nasser town and Kedbek area in 'Latjor State', located in what is otherwise known as Sobat state.
Dukhan Jundit Both, the rebel-appointed secretary of information in Sobat state said in a statement that the area of Kedbek is fully under control of SPLA-IO troops.
Instead, Jundit accused the government forces of attacking their defensive positions in the area on Thursday last week.
The rebel official called on the international community to investigate violations of the signed cessation of hostilities agreement.
Santo Domic, SPLA's military deputy spokesman said on Monday that rebel forces had attacked their defensive positions between Nasser and Kedbek areas.
"The rebels attacked a convoy between Kedbek and Nasser area. They attacked civilians and wounded a policeman," he said.