Rebels claim capture of Ombachi town in Yei River state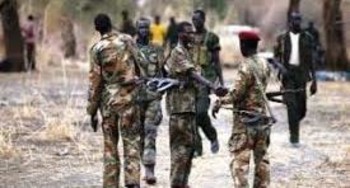 South Sudanese rebels loyal to former First Vice President Riek Machar claimed they captured a town in Yei River state after clashes with government troops today morning.
The incident, a deputy chief of staff for training in the opposition faction said in a statement, occurred in Ombachi Payam in Yei River State.
"The gallant SPLA/M-IO forces … attacked and captured Ombachi town and entire Payam in Yei River state, after the South Sudan government security denied relief food and other humanitarian items to be taken to civilian population at Lasu Payam in Yei river state," Gen. Wesley Welebe Samson said in a statement.
SPLA spokesman Lul Ruai Koang denied knowledge of the reported incident, saying he has not received any report from the local command.
But Alfred Kenneth Duku, minister of information in Yei, told Radio Tamazuj that the rebel forces had attacked their troops at Ombachi area today morning but they were repulsed.
He accused the opposition of trying to frustrate attempts to revitalize the 2015 peace agreement.
Radio Tamazuj could not independently verify what occurred in Ombachi Payam.