South Sudan rebels claim capture of military garrison in Amadi state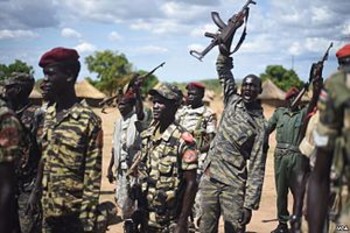 South Sudan's rebels loyal to former first vice president Riek Machar claimed that they captured Lanyi garrison after heavy clashes with government troops in Amadi state.
SPLA-IO deputy military spokesperson, Lam Paul Gabriel, told to Radio Tamazuj on Monday that their forces clashed with the government forces at Lanyi and that they were able to take full control of the area.
In a separate statement extended to Radio Tamazuj, the SPLA-IO deputy chief of staff for training, Lt. Gen. Wesley Welebe Samson, said their forces under the command of Major General Emmanuel Yangu attacked Lanyi garrison and after heavy fighting that continued for two hours.
"Lanyi fell into the hands of gallant SPLA/M IO forces and eight of their soldiers has been killed, huge quantity of arms and ammunition captured in good condition, one military truck and one 14.5 totally destroyed," partly reads the statement.
The rebel deputy chief of staff for training congratulated the gallant rebels and their commander for capturing the SPLA garrison.