ADDIS ABABA -
14 Feb 2018
Rebel leader pessimistic about final peace deal under IGAD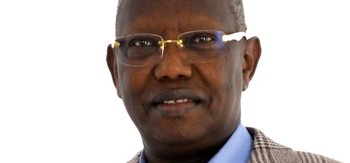 Costello Garang Riny Lual
A South Sudanese rebel leader participating at the ongoing peace talks in Addis Ababa doubted peace deal with the government in Juba under the East African regional bloc IGAD.
Costello Garang Riny Lual, leader of South Sudan Patriotic Army/Movement (SSPA/SSPM), told Radio Tamazuj in an interview that he has become increasingly pessimistic at the prospect of reaching a peace deal with the Kiir administration through IGAD countries.
"I am pessimistic at the prospect of reaching a final peace agreement because the main problem now is the IGAD. South Sudan is a member of IGAD and the government is part of the decisions being made by IGAD, so it is difficult to hold the government accountable for violations of peace agreements," he said.
The veteran South Sudanese politician said he was less hopeful a final peace deal could be struck under the auspices of the regional bloc because it could not protect the 2015 peace accord with signed with rebel leader Riek Machar.
"If you look at the situation after the outbreak of war in July 2016, IGAD did not intervene to save the peace process. Riek Machar would have died in the bush near the border with Congo had it not because of Sudan,' he said.
"The mediator should have the ability to hold accountable whoever fails to commit to the peace agreement," he added.
Lual, a former adviser to President Kiir, questioned South Sudan government's seriousness to bring an end to the ongoing civil war in the country, citing the recent decision taken by the government delegation at the peace talks not to sign the declaration of principles over punitive measures.
The opposition official urged South Sudan leaders to develop home-grown solutions to the crisis in the country instead of waiting for foreign bodies to impose peace. He pointed out his rebel movement had presented a proposal seeking the formation of a transitional council of sovereignty as one of the solutions to end the conflict in the country.
"I also proposed to the IGAD that we should revert to 10 states and that there should be a lean national government. I also said there should be a council for tribes because when leaders differ, they involve their tribes in politics," he said.