South Sudan rebel groups clash in Kapoeta, top general killed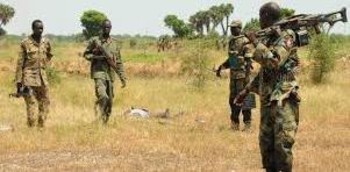 South Sudanese rebel groups fought each other on Thursday in Kapoeta State leaving one rebel general dead, rebels said.
The clashes broke out yesterday in an area near Napotpot between two groups: one loyal to General Thomas Cirillo and one loyal to former first vice president Riek Machar.
The two rebel groups that clashed on Thursday both oppose President Salva Kiir's administration and are currently negotiating a new peace deal as unified opposition groups at the ongoing peace talks in Addis Ababa.
But SPLA-IO commander on the ground Yusif Peter told Radio Tamazuj that they killed Brig. Gen. Joseph Lokopir who was loyal to National Salvation Front (NAS) led by General Cirillo during fierce clashes. "Yes I can confirm that we have killed Big. Gen. Joseph Lokopir who was always known for attacking civilians on the Kapoeta-Narus highway," he said.
Peter accused rebel forces commanded by Lokopir of opening fire on their troops after a verbal agreement between the two sides to meet directly in order to discuss matters related to respect of ceasefire in the area, claiming their forces fought back in self-defence.
A NAS commander in Eastern Equatoria region, Simon Karlo, confirmed that the two groups begun fighting each other on Thursday. However, Karlo said he was unaware of the killing of General Lokopir by Machar's forces.
Kalo said SPLA-IO deputy spokesman informed him on phone that their forces had captured a few officers loyal to NAS including Joseph Lokopir during fighting.
SPLA-IO deputy military spokesman Paul Lam said investigations are underway to find out the cause of fighting between the two rebel groups.
SPLA-IO military spokesman William Gatjiath Deng confirmed that they killed Brig. Gen. Joseph Lokopir during fighting on Thursday.
Gatjiath claimed that the clashes between both sides broke out when NAS forces commanded by General Joseph Lokopir opened fire on their troops after being advised not to attack civilians in the area despite the signed ceasefire truce.
"Our stance as opposition groups is one at the ongoing peace talks in Addis Ababa, so we want to say that what was done by Cirillo's forces in Kapoeta is wrong," he said.