South Sudan re-launches oil production officially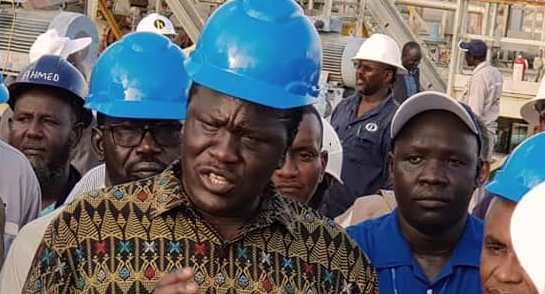 South Sudan's government on Saturday resumed oil production at Toma South in Unity region in order to boost its economy as warring parties signed a peace deal.
The oil project is jointly carried out by South Sudan's Ministry of Petroleum, Greater Pioneer Operating Company (GPOC), with the support of 2B Operating Company of Sudan.
The pumping of crude oil was witnessed by South Sudan's minister of petroleum, Ezekiel Lol Gatkuoth and Azhari Abdel-Gadir, minister of petroleum of Sudan.
In a press statement, oil minister Ezekiel Lol Gatkuoth said Toma South oilfields are ready to resume operations by September. "This will be followed by Al-Nar, Al-Tor, Manga, Unity and then we will go to Tharjiath or block 5A," he said.
"Things are moving very well, and this is going to contribute positively to the economies of the two countries," he added.
Gatkuoth further said South Sudan will be working hand in hand with Sudan to achieve oil resumption at all oilfields." South Sudan will protect its border and the Republic of Sudan will protect its border so that to don't have negative forces or criminal activities but I can declare to the people that all the oilfields are secure," he said.
For his part, Sudan's oil minister Azhari Abdel-Gadir said South Sudan's oil production would resume officially at Toma South." Had it because of the peace agreement signed on 5 August, this would have not been possible," he said.
The Sudanese official urged South Sudan government to work to resolve remaining technical issues on other oilfields in the country.